The Addams Family features an original story, and it's every father's nightmare. Wednesday Addams, the ultimate princess of darkness, has grown up and fallen in love with a sweet, smart young man from a respectable family – a man her parents have never met. Everything will change for the whole family on the fateful night they host a dinner for Wednesday's 'normal' boyfriend and his parents. Join us for this contemporary comedy about family, love, honesty, growing up, and how everyone is weird in their own wonderful way. We'll leave the lights off for you.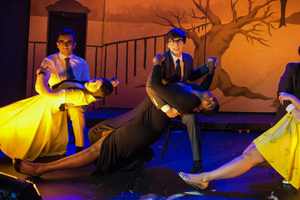 ---
Queen Lear disposes of her kingdom between two of her three daughters based on their overt praise for her. The story twists and turns as we follow the Queen's descent into madness which brings tragic consequences for all. Set in an oppressive futuristic society Queen Lear focuses on economic inequality, the crippling effects of the media, and what is considered private and what is not.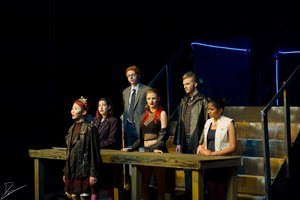 ---
Welcome to the blanket fort! Come and hear the biblical story of Joseph and his eleven brothers, as told by 3 sisters, 14, 10 and 6 years old.
The biblical story of Joseph and his coat of many colors comes alive in the musical retelling. Joseph – the favorite son of Jacob – is blessed with vivid dreams that foretell the future. Sold into slavery by his jealous brothers, Joseph endures a series of adventures which challenge him to his core. Soon he finds himself belonging to Potiphar, whose wife makes advances toward Joseph and ultimately land him behind bars. However, news of Joseph's ability to interpret dreams sparks the interest of the hilariously Elvis-like Pharaoh. Soon, Joseph is out of jail and well on his way to second-in-command. Eventually Joseph's brothers find themselves unknowingly groveling at the feet of the brother they betrayed. As they fail to even recognise him, Joseph tests their integrity. He ultimately reveals himself and the brothers are reconciled. A truly timeless Old Testament tale, Joseph and the Amazing Technicolor Dreamcoat is set to a multitude of musical genres, spanning from country-western and calypso to bubble-gum pop and rock and roll.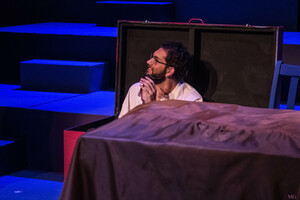 ---
Lovingly ripped off from the classic film comedy Monty Python and the Holy Grail, Spamalot retells the legend of King Arthur and his Knights of the Round Table, and features a bevy of beautiful show girls, not to mention cows, killer rabbits, and French people. Did we mention the bevy of beautiful show girls? The 2005 Broadway production won three Tony Awards, including Best Musical, and was followed by two successful West End runs.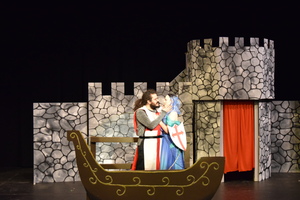 ---
Welcome to Elsinore, a city of stiff machismo and military pride, ruled over by the gruff but decisive Claudius and his former sister-in-law, Gertrude. To Hamlet, this is not her world. But when the ghost of her father appears to Hamlet and reveals Claudius as his killer, Hamlet tempestuously vows revenge. But how will she do it? Can this bookish and emotional grad student overthrow a regime? This take on Hamlet looks at the limits of our convictions, and how much we can really manage to change a society.
A video recording of the production is online.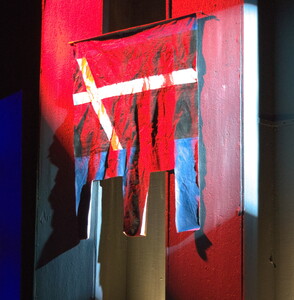 ---
A puppet-filled comedy follows a group of twenty-somethings seeking their purpose in big-city life.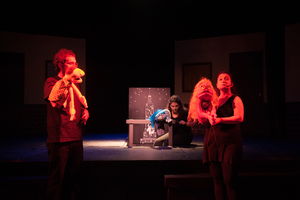 ---
An American and a Russian chess grandmaster face off at the height of the Cold War, when political tensions have reached a boiling point. The situation gets even more complicated when the American's second falls in love with the Russian. It is a story of love, betrayal, politics, and a simple board game, set during the glorious eighties.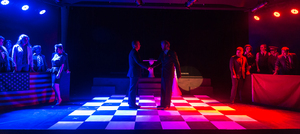 ---
Romeo and Juliet have been falling in love and dying on stages for four hundred years. But what if they weren't just characters in a play? What if they were family, friends, neighbors, classmates? Join us for this classic tragedy and experience the laughter and sorrow of Shakespeare's star-crossed lovers in a production that blurs the divide between actors and the characters they portray.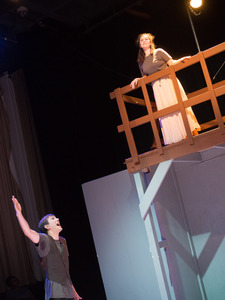 ---
In the Messina gamer's lounge, a hormone-infused saga of romance and hearsay is about to unfold. When the shy Claudio enlists Pedro, his ultra-popular game wizard friend, to win the heart of the shy and beautiful Hero, it seems like young love will easily triumph. But Pedro's brother John has other ideas, and one little video changes so much.
Fusing modern technology, gaming, and teenage passion with Shakespeare's classic tale of romantic manipulation, this MUCH ADO explores questions about social media, cyber-bullying, and youthful naivete.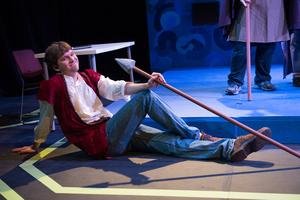 ---